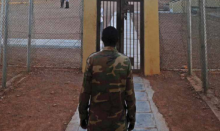 On 21st February, Human Rights Watch published a report which denounces violations committed by Somali authorities against the rights of children with alleged ties to the Islamist armed group Al-Shabaab, including unlawful detention and prosecution as adults in military courts.
In 2016, 386 children were arrested by the security forces during operations targeting Al-Shabaab. While the government had promised to hand over captured children in security operations to the United Nations Child Protection Agency (UNICEF) for rehabilitation, it has not complied consistently, and several violations of international human rights law have occurred.
Children were often held by intelligence forces (Somalia's National Intelligence and Security Agency (NISA) in Mogadishu, or Puntland's Intelligence agency (PIA) in Bosasso) who decided, without independent supervision, how they categorised children, how long they kept children, and if and when they handed them over to UNICEF.
Detained children have reported to Human Rights Watch about instances of mistreatment, torture, deprivation of the right to legal counsel, isolation from relatives, and placement with adult detainees. 
The criminal proceedings applied to these children failed to meet basic juvenile standards. Making use of an outdated legal system, the authorities tried them for security crimes in military courts, primarily as adults. Moreover, these children were unable to prepare a proper defence and were coerced into confessions, which were then unlawfully admitted as evidence.
Even though over 250 children have been handed over to UNICEF by the authorities since 2015, most have spent considerable time in detention before that, and their release only happened as a result of sustained advocacy.
Laetitia Bader, senior Africa researcher at Human Rights Watch and author of the report claimed that "the Somali government should treat children as victims of the conflict, and ensure that children, regardless of the crimes they may have committed, are accorded the basic protection due to all children". She also called for a strengthening of child-specific procedures by international partners, as well as actions towards greater rehabilitation and supervision for detained children on the part of the country's authorities.