Thursday, 16 November, 2017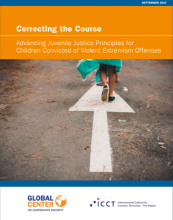 The recently published report 'Correcting the Course' aims to enhance the contemporary knowledge base on the management of juvenile violent extremist offenders (JVEOs) in custody, as well as the design and implementation of effective interventions for risk reduction and rehabilitation of children. This publication was commissioned by the Australian government to the Global Center on Cooperative Security and the International Centre for Counter-Terrorism (ICCT).  
The report is divided into five parts. Part one outlines several guiding principles which provide a framework for achieving the main objectives of juvenile justice according to international standards. For example, the report states that all decisions affecting juveniles should be informed by the best interest of child and individualised assessments.
Part two deals with issues relating to intake procedures, needs and risk assessments, and classification tools. The report emphasises that no single risk factor alone is sufficient to determine the outcome of the assessment; decisions must be made only after considering all factors.
Part three reviews principles and constitutive components of custodial management, such as detention infrastructure, facilities and services; prison regimes and standards; and special consideration for female JVEOs. For example, the report states that juveniles should be housed separately from the incarcerated adult population, except in cases where family unification is in the best interest of the child.
Part four develops the discussion on evidence-based approaches to rehabilitating children and provides advice on establishing clear objectives for programming. The report recommends, for example, focussing on a juvenile's potential and strengths rather than risk factors to support their resilience to subsequent offending.
Finally, part five outlines the challenges and risk mitigation practices related to the reintegration of JVEOs into society after their time in custody. The report recommends providing assistance and training to members of the juvenile's network to support their reintegration.