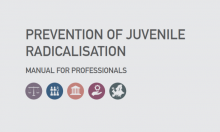 The IJJO has recently published the manual 'Prevention of juvenile radicalisation'. This publication has been produced in the framework of the IJJO-led project 'PRALT - The prevention of juvenile radicalisation: Promoting the use of alternatives to detention through judicial training', co-financed by the Justice Programme of the European Union. 
The PRALT project is carried out in partnership with the Judicial Youth Protection Services (DPJJ) of the French Ministry of Justice, the Ministry of Justice of Bremen (Germany), the National Administration of Penitentiaries and the Romanian Intelligence Service (Romania), and Fundación Diagrama (Spain).
The manual has been designed for professionals in the justice system working with children and young people in conflict with the law. It will help professionals become familiar with current trends in Europe with regard to juvenile radicalisation.
This publication may also be a useful resource for members of civil society interested in the issues tackled in it. One of its main goals is to facilitate dialogue between judicial staff and members of society on the topics of radicalisation, human rights and fundamental freedoms, as well as the potential role of communities in the process of prevention of radicalisation.
Its content, particularly the European examples featured, can also be used in traditional training courses designed to improve prevention strategies against the radicalisation of young people.
This publication is already available in English, and is soon to be released in Spanish, French, German and Romanian.
Structure of the manual
The manual consists of five volumes. It provides professionals and practitioners with the concepts and legal and policy instruments for understanding the context in which radicalisation affects young people, as well as an overview of prevention of crime in general, with particular focus on the prevention of radicalisation.
There is also a focus on alternatives to detention and community measures in the context of juvenile radicalisation, providing an understanding of the different types of community sanctions and measures, their legal framework and their characteristics.
Readers will also find an overview of prevention of radicalisation in the detention context, describing the concepts and the instruments needed to understand the often vulnerable situation of children in detention. It sets out methodologies for working with young people convicted of violent extremism offences, as well as after their release from detention.
All of these topics are accompanied by details of Europe-based programmes putting into practice the ideas discussed in the manual.
The final volume presents national reports which assess the current situation of juvenile radicalisation in the project's partners' countries: Belgium, France, Germany, Romania and Spain.