Tuesday, 20 November, 2018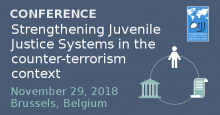 As the European agenda and recent events that have occurred since 2015 demonstrate, the issues of radicalisation and violent extremism, which may be conducive to terrorism, have become the principal concern of a significant number of Member States.
However, in the midst of the rush to enact counter-terrorism legislation at National and European levels, little if any consideration has been given to the fact that some of the suspected or alleged 'terrorists' could be children or underage juveniles.
The way terrorist suspects are treated in general needs to be considered in relation to the particular impact it may have on suspected girls and boys under the age of 18, who are first and foremost children before being suspects. Nevertheless, children-centred policies and practices in the field of counter-terrorism do not exist in most of the European Union Member States, and where they do, they are specific to each country, and experiences, which appear to be promising, are seldom shared between Member States.
In consequence, the project "Strengthening Juvenile Justice Systems in the counter-terrorism context: Capacity-building and peer-learning among stakeholders" (JUST-2015-JCOO-AG-TERR) aims to identify, promote, and strengthen political response and specialised programmes to fight terrorism and extreme juvenile violence, while taking into account juveniles' unique situation, and ensuring their protection under International and European law in the context of counter-terrorism.
Equally, this project addresses the requirement and urgency for juvenile justice systems to resort to extrajudicial, alternatives and community-based measures in addition to, and where possible instead of, usual criminal justice responses in the treatment of radicalised juveniles.
Due to the special situation of vulnerability and risk of being recruited in detention centres, this project also draws special attention to children deprived of liberty. The prevention of juvenile radicalisation in detention centres, as well as the need to design de-radicalisation and social inclusion programmes, are therefore also main components of this project.
This final conference will on that date present the results of this 2-year transnational project, as well as gather together experts in juvenile justice and representatives of different institutions and European Union Member States.
Information:
Thursday 29th November 2018
Venue:
Auditorium, Kartuizercenter
Kartuizerstraat 70 rue des Chartreux  - 1000 Brussels
Registration :
Please kindly confirm your attendance by sending an email to Ms. Adélaïde Vanhove, avanhove@oijj.org with the following information:
Surname
First name
Date of birth
Nationality
Identification number and type of ID which will be shown at the entrance of the building
Simultaneous translations will be provided in French and English.